There are kings and there are kings; but His Royal Majesty, Oba Saheed Ademola Elegushi (Kusenla III), the Elegushi of Ikateland, cannot be ruled out in the committee of royalty.
In Nigeria of today, he remains one of the youngest and flamboyant royal fathers in the history of kings from the South Western part of the country. This handsome and one of the most stylish royal monarch, who is second to none is in his mid-40s, is ascribed as one of the wealthiest Kings in Nigeria.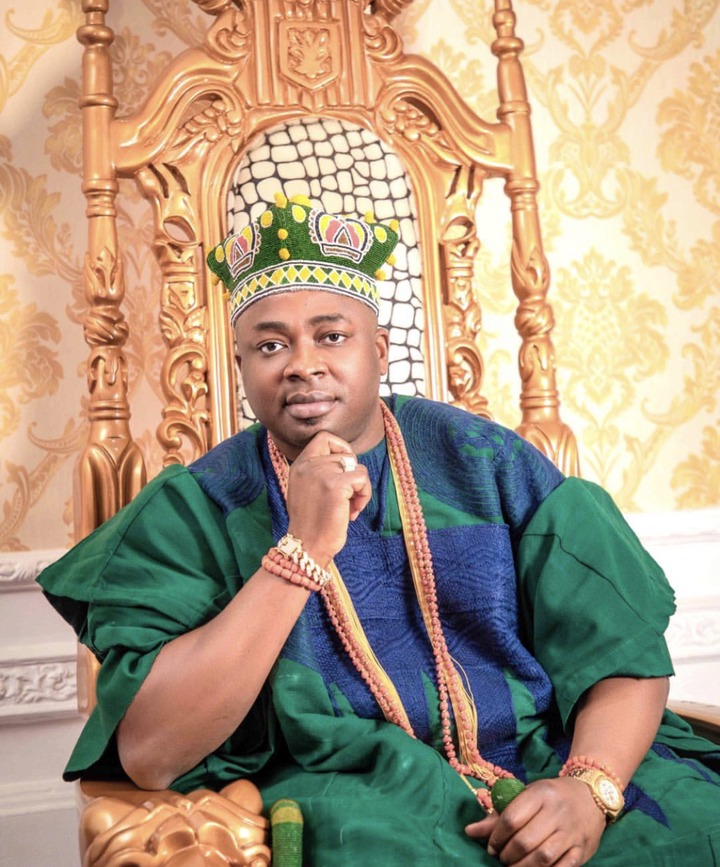 Last Friday, April 10, 2020, the youthful and amiable King of Ikateland, added a year, and even more glorious years on the throne of his forefathers. Aside from being a very well-loved, appreciated and celebrated father to a whole lot, many from far and near, young and old, subjects and friends and co-royal fathers and family members, have been falling over themselves to wish him well on this day.
And one of those who have openly celebrated him is none other than his beloved Kano-born wife, Olori Hadiza Elegushi aka Queen Gushi II, who wrote a heartfelt message in the public domain to her beloved husband better referred to as Oba Gushi. She's so happy that they are celebrating his 1st birthday as husband and wife.
Olori is so elated to celebrate him and let the world know it's his first birthday with them as an officially married couple.
According to her enthralling message: "Alhamdulillah, today marks the 1st day I get to officially celebrate my husband's birthday as his Queen, HRM Oba Saheed Ademola Elegushi. A day like this, is meant to be special and unique, for its a day to reflect on how blessed I am, to have you in our lives, how complete and whole I feel, knowing that you will remain in our lives forever, and making sure that we remain as one, through thick and thin.
This is to wish you a fantastic and blessed birthday my love, May your light continue to shine brighter than the stars, may our hearts continue to merge into one, may your reign be long and prosperous, so you can live long to take your kingdom to greater heights. May your mum and other relatives live long to continue to witness your remarkable achievements in life and continue to be proud of you, may all that you touch, and all that you do be blessed and blessed in Allah's name I pray, Aamin."
A most beautiful birthday message we dare say. And we are just too sure, that if not for the times we are in, with the rage of the COVID-19 Coronavirus pandemic still on a well packaged birthday shindig would have been held.
Rather than host an elaborate party, Oba Elegushi stylishly extricated self from any form of elaborate celebration. Anyways, we join all the King's well-wishers to celebrate him and wish for him, many more great years of awesome achievements on the throne of his forefathers in good health.
Oba Saheed Elegushi is so versatile and dynamic in the Lagos political, social and economic circuits, but he does not hang any hairs around himself, for reasons of his upbringing and orientation; which are not too far from humility and morality.